Forever 21

She said, "This looks like something I would buy from Forever 21." We had just up-cycled her mother's dress. (Up-cycled: Remaking of an existing item.) A shorten hem and added ties to cinch the waist gave new life to this old dress.Her mother's comments "You guys brought my dress back! . . . I know she will start going through my closet now."
Taylor's Bikini
It wasn't a teeny weenie polka-dot bikini, but a snake skin faux leather bikini. She was certainly proud of her accomplishment.My student Taylor, never sewn before, she completed her first bikini. Armed with great determination and the specifications of no "camel-toe" and no "diaper bottom," she completed her task beautifully.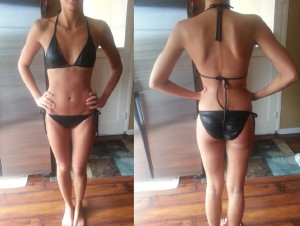 Tammy's Shirt
Many seamstresses are intimidated by the bias, but Tammy took on the challenge. Initially, she had planned to sew the shirt with the stripes in the easy and traditional vertical pattern.I encouraged her to lay the pattern on the bias. She agreed and sewed this beautiful blouse. Not only do the stripes create an interesting chevron pattern, but provides a very slimming silhouette.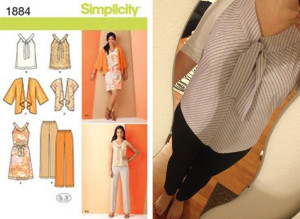 That's So Nicole
I remember when That's so Raven first aired on Disney. The story line was entertaining, however, each week my daughter and I tuned in to view what Raven Simone wore. We loved her style. I think I purchased every Raven pattern that existed. That was thirteen years ago!
So when my student, Nicole, was searching for a sewing project; I quickly pulled out my Raven collection. Nicole chose Simplicity Pattern 4106. Nicole updated this two-piece pattern with a green and yellow flora cotton print. She will be cool and look fresh in her sun-top and peasant skirt.
It is safe to say good fashion is timeless.